Today Kathy and I celebrate 28 years of marriage.  I suppose if we lived in Hollywood that would be some sort of record.  I rolled over this morning in bed, wished her a happy anniversary and asked her if she still loved me.  She said, "Look I told you the day we got married, if it changes, I'll let you know". Good enough for me.
Marriage is never easy.  I do not know anyone who has not struggled at one point or another.  Billy Graham was once asked, "Have you ever considered divorce?"  He humorously answered, "Divorce?  Never.  Murder, many times but never divorce".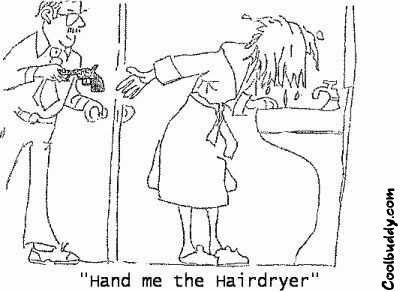 The greatest marriage success secret of all time is found in Ephesians 5.  So husbands ought to love their own wives as their own bodies; he who loves his wife loves himself. (Eph 5:28) Three times in 3 verses Paul tells husbands to love their wives.  What is he driving at?  What could he be trying to say?  There must be a message here somewhere!  The simple fact is this, a wife's single greatest need is to be loved, cherished and honored by her husband.  If men could learn to treat their wives like they are the most precious thing in the world they would see amazing results.  When men tell me they don't know how, I tell them they do.  All you have to do is treat her the same way your do that $20,000 motorcycle in the garage.  You baby it and run your fingers across the gas tank like it is a million dollar Stratovarius violin.  Just treat her the same way.
On the other hand, Paul never tells the woman to love her husband (although I suppose she can if she wants).  Instead he says, Nevertheless let each one of you in particular so love his own wife as himself, and let the wife see that she RESPECTS her husband.  (Eph 5:33)  What's that all about?  Well, a man's greatest need is not love but respect.  Ladies, us men are completely ego driven.  We want you to think we are the most amazing thing since Gucci handbags.  You know; smart, talented, hardworking, good looking…basically we just want you to think we are AWESOME!  I am really not kidding.  Respect is a man's greatest need.  Any marriage that gets into the groove of love and respect is a marriage that will stand the test of time.
I can honestly say that I love Kathy more today than I ever have.  We have had our rough patches just like any other marriage, but never once have I regretted the decision I made 28 year ago.  And I have always felt her respect…even when she was mad at me for doing something stupid.  Which is basically every day.  No, Paul got it right 2000 years ago. Love and respect is the ultimate marriage success secret.  Ignore it at your own peril.